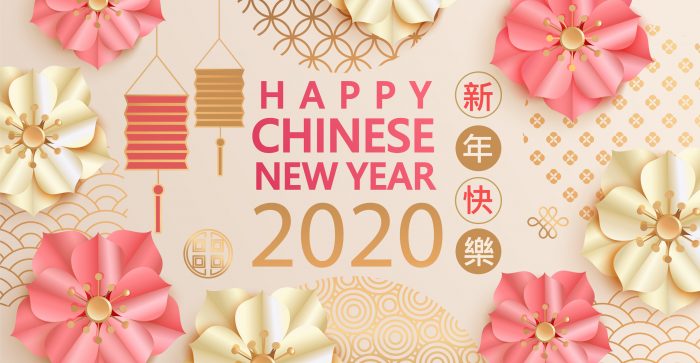 Chinese New Year is on January 25, 2020, and it's the most important holiday in the Chinese calendar. For a fun celebration, try these Chinese New Year activities with your kids. Whether it's making Chinese dumplings, learning the Gong Xi, Gong Xi song, making "hong bao" red packets or writing greeting cards, your kids will love them.
Download Chinese New Year Greeting Cards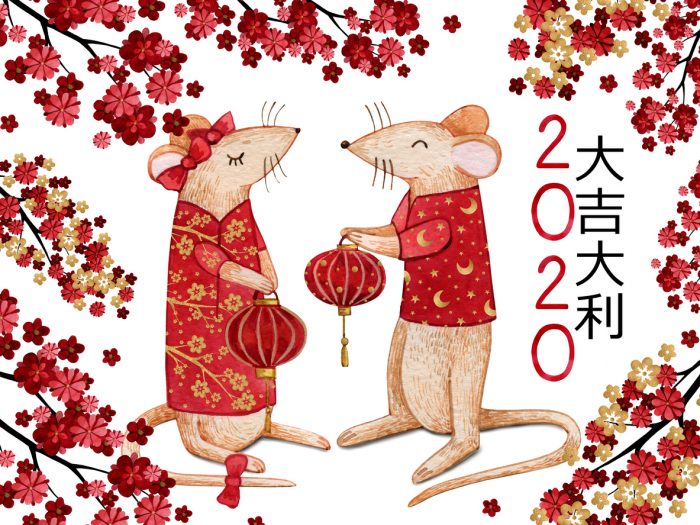 Download and print out our free Chinese New Year greeting cards. They're great for your child to give to teachers or grandparents.
Download the cards here.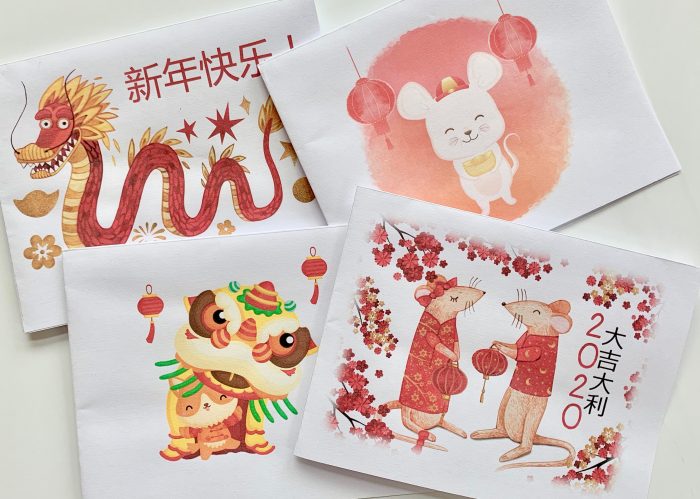 Looking for some traditional Chinese New Year greetings to write in the card? Try these:
Happy New Year:
新年快乐!​​xīn nián kuài lè​​

May the New Year bring you wealth and treasure:
恭喜发财!​​gōng xǐ fā cái​​

Wishing you good health in the New Year:
身体健康!​​shēn tǐ jiàn kāng​​

May everything go your way:
万事如意!​​wàn shì rú yì​​

---
Make Hong Bao, Red Packets, or Red Envelopes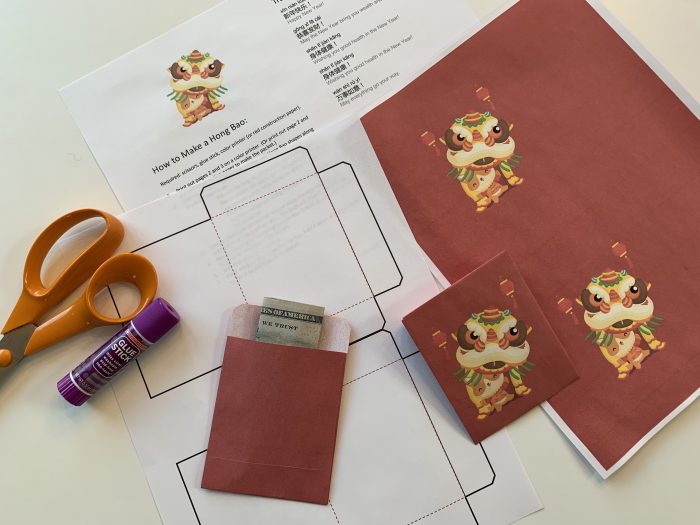 Who doesn't love a gift, especially cash? For Chinese New Year, it's a tradition to give "red packets" or hong bao, which are red envelopes containing money. Typically, adults give hong bao to children. The red color of the envelope symbolizes good luck and fortune.
Want to join in this tradition and need some hong bao packets? You can download and cut them out with our easy to use template. It just takes a color printer, scissors and glue.
If you're giving or receiving a hong bao, here's some etiquette to know.
For politeness, always give a hong bao with two hands and always receive a hong bao with two hands. ​
It is customary when you give and receive a hong bao to also exchange a traditional greeting. And don't forget to say thank you! xiè xiè​
It is customary to not open the hong bao in front of the giver. ​
How much to give can depend on the relationship between the people. Avoid giving amounts with the number four in it, which is considered an unlucky number, and if possible give an amount with the number eight in it, which is considered a lucky number.
Download our template for making hong bao packets for Chinese New Year here.
---
Make Chinese Dumplings (Jiao zi)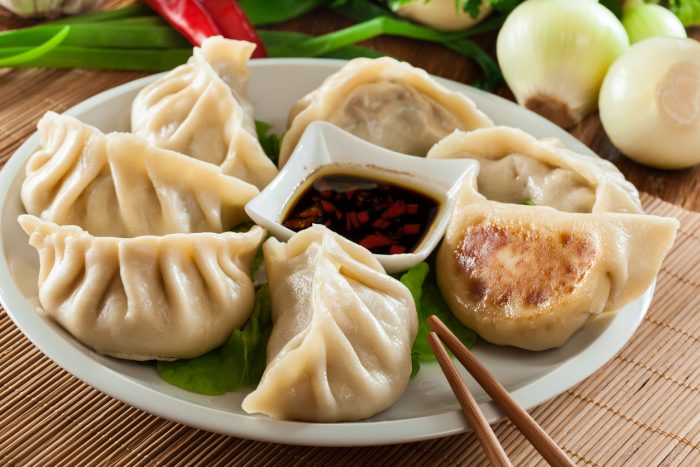 Chinese dumplings are a beloved tradition for Chinese New Year dinner. Kids love to join in on the fun of making them, and eating them.
The curved shape of dumplings resembles ancient coins, so dumplings symbolize longevity and wealth. They're eaten at midnight on Chinese New Year's Eve to bring prosperity to the New Year.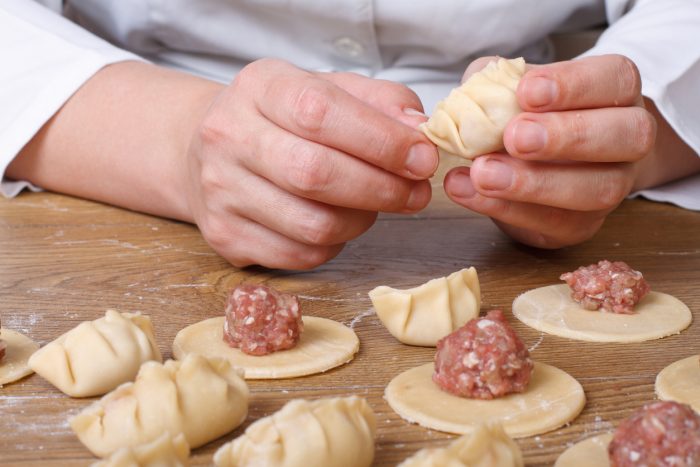 Get an easy and popular recipe for Chinese pork dumplings using store-bought dumpling wrappers here.
---
Learn the Gong Xi Gong Xi song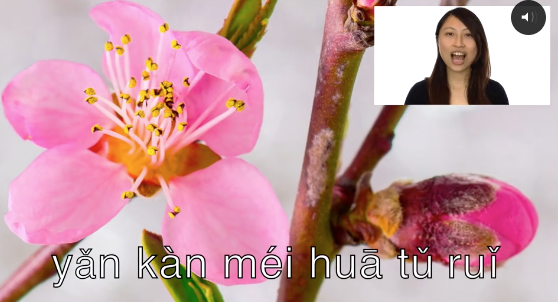 Children learning Chinese in school are sure to learn the Gong Xi, Gong Xi song to sing at Chinese New Year. The title of the song literally translates into "Congratulations, Congratulations". It celebrates the end of winter and the arrival of the signs of spring, like cherry blossoms blooming.
A word to the wise… once you get this song in your head it's hard to get it out!
Watch a video of the song, with lyrics in Chinese characters and pin yin here.
The lyrics translated into English are:
Each pathway and street
On everyone's lips
The thing we say first
Is congratulations, congratulations,
Congratulations, congratulations to you
Congratulations, congratulations to you
Winter has come to an end
That's really good news
The warm spring wind
Will wake up the earth
Congratulations, congratulations to you
Congratulations, congratulations to you
All the snow and ice is melting
The plum blossoms are seen
The long nights are passing
I heard the cock crowing
Congratulations, congratulations to you
Congratulations, congratulations to you
Download the lyrics in Chinese characters, pin yin and English here.


Enjoy Time Together as a Family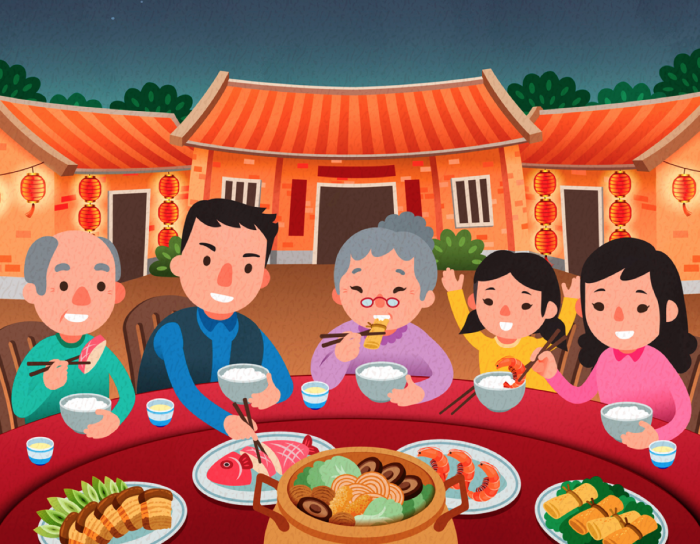 One of the most important traditions of Chinese New Year is to spend time together as a family. In China, millions of people return home for the holiday, creating the busiest travel period of the year.
Wherever you are celebrating, we wish you and your family a happy and prosperous New Year.